Hi all,
We just brought in the Solid State Drive by Kingston Technology. We have the Kingston SSDNow V+200 and the Kingston HyperX 3K SSD in stock now.
Which SSD is suitable for you?
Kingston SSDNow V+200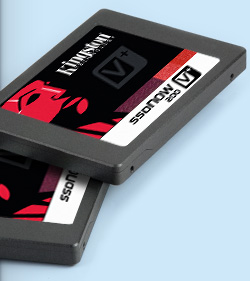 Kingston's SSDNow V+200 solid-state drive combines exceptional quality and performance with an affordable price, making it ideal for businesses and consumers alike. This innovative drive features a second-generation SATA Rev. 3.0 SandForce Processor for best-in-class sequential read/writes combined with Asynchronous NAND. V+200 offers Data Integrity Protection that features DuraClass™ Technology plus RAISE™ for advanced data reliability. It's designed to take the performance hit out of software encryption, so businesses can increase their employees' user experience, and it's a great way for home users to dramatically improve the performance of their desktops and notebooks. V+200 is available in a range of capacities to meet anyone's needs.

Features

Multiple capacities — the right capacity to meet your storage standards
Endurance — Data Integrity Protection featuring DuraClass Technology
Dependable — RAISE™ for advanced data reliability
Secure — Self-Encrypting drive (128-bit)
Durable — DuraWrite™ optimizes writes to extend endurance
Guaranteed — three-year warranty, free technical support and legendary Kingston reliability




Kingston HyperX 3K SSD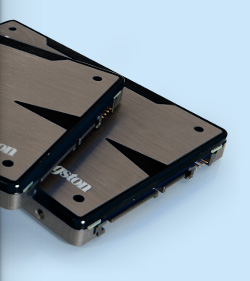 HyperX performance at an exceptional price.

Budget-minded gamers and enthusiasts will benefit from the lower price of Kingston's new HyperX 3K SSD. This solid-state drive combines premium 3000 program-erase cycle NAND with the second-generation SandForce controller. Its lower price means more users can experience ultra-responsive gaming, multitasking and multimedia computing power. 3K loads games and applications faster, increases frames per second (FPS) for an improved gaming experience and allows for quick transfers and edits of large media files. HyperX 3K provides high-speed SATA Rev. 3.0 (6Gb/s) performance and blazing fast random and sequential read/write speeds. SandForce DuraClass™ technology provides the latest data integrity protection for ultimate endurance over the entire life of the drive. HyperX 3K SSD comes in a sleek, black and aluminium case design, accentuating the look of any power user's system. For added peace of mind, HyperX 3K SSD is backed by a three-year warranty and legendary Kingston reliability.

Features

SandForce controller technology
High-speed SATA Rev 3.0 (6Gb/s) transfer speeds
Advanced Wear-Leveling Technology
User-Configurable Over Provisioning4
Performance — incredible speeds for enhanced productivity
Reliable — much less likely to fail than a standard hard drive
Shock-Proof — dropping your notebook no longer means losing your data
Cool & Quiet — runs silent and with no moving mechanical parts to generate heat
Innovative — uses NAND Flash memory components
Supports TRIM3 — enhances device wear leveling by eliminating merge operation for all deleted data blocks
Supports S.M.A.R.T. (Self-Monitoring, Analysis and Reporting Technology)
Guaranteed — three-year warranty, free technical support and legendary Kingston reliability


Please visit us for more details. Thank you very much.